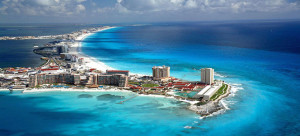 Cancun Mexico Live it to Believe It
Voted In the top 25 beach destinations in the world Cancun Mexico, a Mexican city on the Yucatan Peninsula bordering the Caribbean Sea, is known for its beaches, numerous resorts and energetic nightlife. It's composed of 2 distinct areas: the more traditional downtown area, El Centro, and Zona Hotelera, a long, beachfront strip of high-rise hotels, nightclubs, shops and restaurants. Cancun is also a famed destination for students during college's spring break period.
Cancun Mexico Live it to Believe It is not just for spring-breakers. Cancun, with its golden beaches and perfect climate, is the premiere coastal destination in Mexico. And while there is certainly a 365-day party available for those seeking the ultimate party scene, resorts cater well to families and to those seeking solitude. This Yucatan paradise is also the gateway to the ruins of Tulum and Chichén Itzá. Cancun Mexico is World renown for its exquisite Hotels and resort, Fabulous Restaurants, Long stretches of white sandy beaches, and friendly people.
Search Hotels in Cancun Mexico
Enjoy Your Trip to Cancun Mexico
Book A Hotel, Flight, Car Rental
---
Please Like Share Tweet Comment